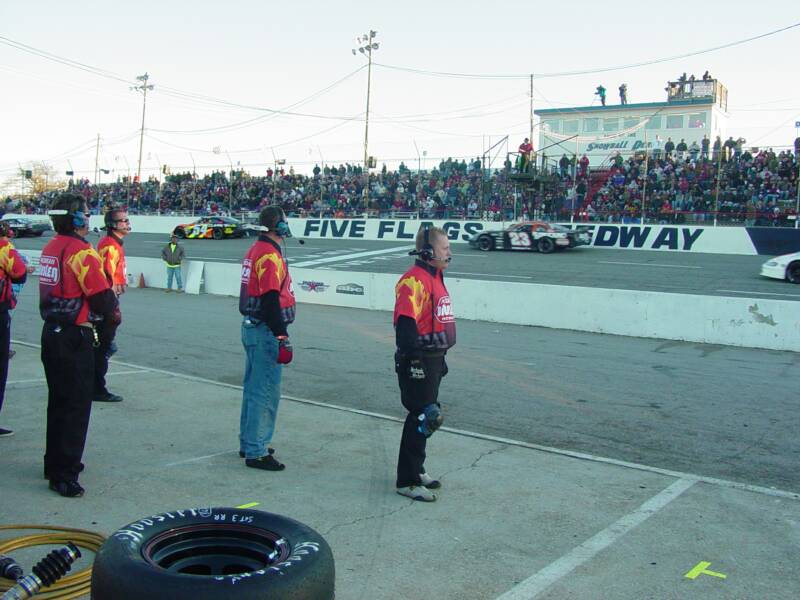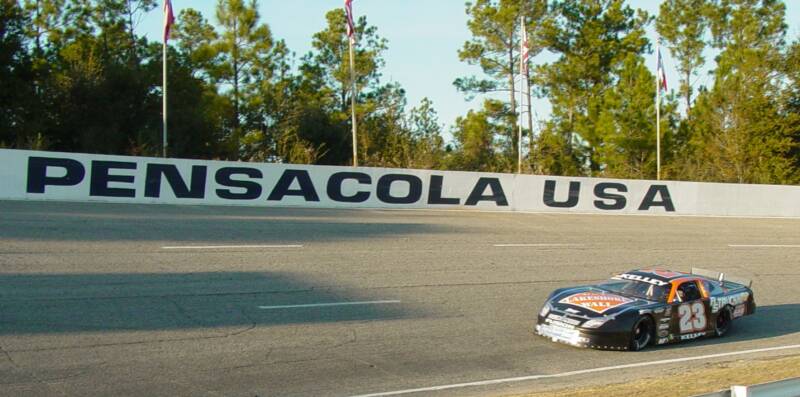 Kelley had a busy week at Five Flags Speedway in Pensacola Florida running both the Snowflake and Snowball Derby.

Thursday he practiced only with the Snowball car trying to get a handle on it but not much luck.

Friday practice came but he still was not getting the speed he needed to make the top 30 in qualifying.  He made one practice run with his Snowflake car and said it was good.  Friday afternoon practice was almost over and Paul did everything he could, but he was not happy with the way the car was running.     Paul and his Crew Chief talk about changing things, but Paul said leave it we will run it like it is.   Qualifying started a 7:00p.m. and the temperature had dropped into the 30's .   Paul was to qualify around 40th of 60 but his car battery went dead on the grid and he had to qualify last.  Paul's best time in practice Thursday and Friday was a 17.49 and when he goes out to qualify the bubble is 17.10 four tenth faster than he's been all week.    He makes his run and turns a 17.049 good for 22nd starting spot for the 41st Snowball Derby.   Saturday morning  practice started at 10:00a.m. for the Snowflake cars. Paul's been happy with this car it is the same car he raced at the World Crown.

Qualfing starts at 2:00p.m. with 70 cars going for 30 spots . Paul makes his qualifying attempt with a time of 17.213. This will put him 7th, not bad.  Paul Kelley is racing in both the Snowball Derby and the Allen Turner Hyundai Snowflake 100.  He successfully qualified for both events and ironically enough, was the last driver in the qualifying order for each event.

  At the drop of the green flag Kelley was just taking it easy saving his tires until around lap 49 and a car gets into the back of Paul and spins him in turn two.  Paul has to start at the rear of the field.   With 50 laps to go Kelley can't take it easy now.

Kelley works his way up to third with five laps to go the #9 car does a bump and run on Kelley moving him back to finish forth.

   In the 41st Snowball Derby  41 cars make up the field with Kelley starting 22nd in his third Snowball Derby.   At the drop of the green flag Kelley's car is tight and he gets caught on the high side and the field freight trains by him dropping Kelley to the back of the field and going a lap down early.  A red flag comes out at Lap 59 because of big wreck .  Kelley decides to pit under red to adjust on his car and get some new tires sending him to the back of the longest line, still a lap down. A restart a lap 80 Kelley gets to the inside to try and get his lap back.  At lap 99 Kelley gets his lap back . Kelley is off pit sequence with the leaders. At lap 202

Kelley moves into third.  By lap 270 Kelley has again gone down a lap but hangs on for a top 10 finish

Paul Kelley does double duty

Snowflake 100 & Snowball Derby

Allen Turner Hyundai Snowflake100 Qualify's 7th Finish 4th

41st Annual Snowball Derby

Qualify's 22nd Finishes 10th